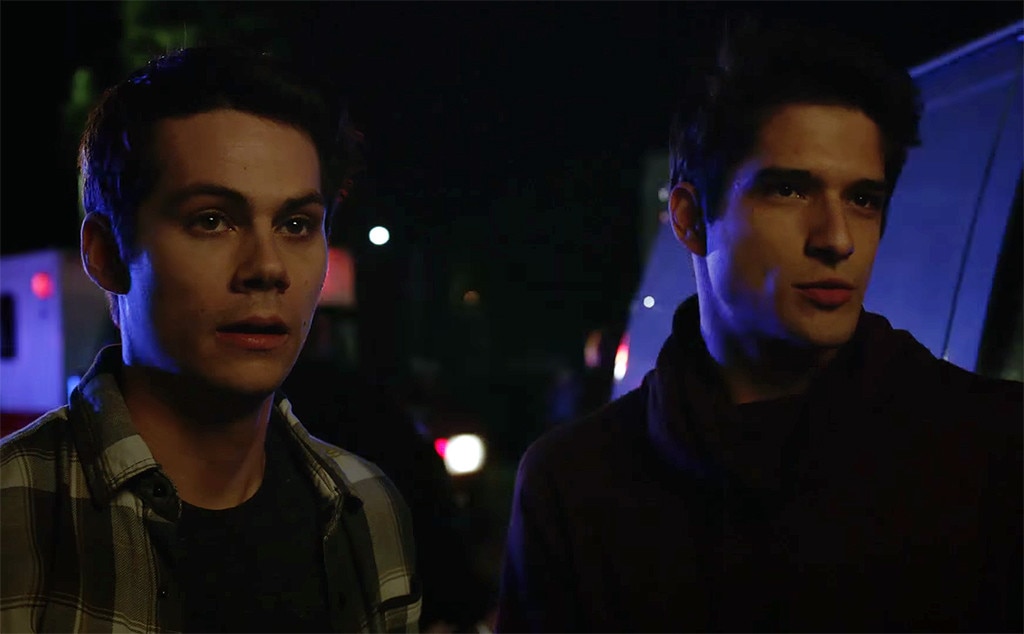 MTV
Gonna be honest here: we could not explain exactly what happened in Teen Wolf's winter finale if we tried.

The train was rerouted, the nazi was defeated and turned into a ghost rider, and then the ghost riders disappeared, and all the people in the train station returned to their lives. That's the gist of it, but that gist is not what we cared about tonight, not what drove us to tears and squealing and other involuntary emotional responses.

First of all, Stiles (Dylan O'Brien) returned! Lydia's (Holland Roden) memories did the trick, and while he didn't walk out of the light and right into her arms as we were kind of hoping, he did suddenly appear back in his jeep. His real entrance, however, came when Scott (Tyler Posey) and Liam (Dylan Sprayberry) were face to face with the nazi in the hallway, and suddenly Stiles appeared with his trusty bat to help them take him down.

A while later, Stiles was at the unfortunate end of one of the ghost riders' guns, until a banshee showed up to save him.

"I didn't say it back," Lydia said. "You didn't have to," Stiles responded, before they launched into a lengthy and long-awaited kiss.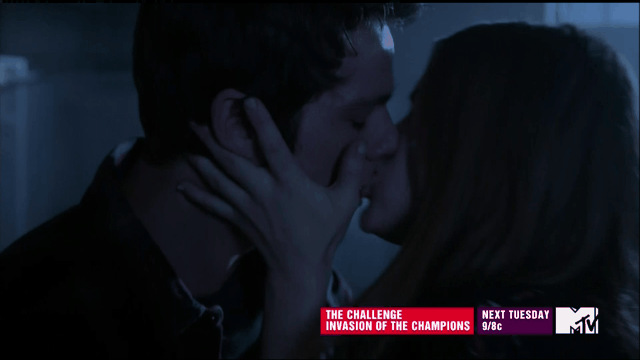 MTV
We had barely recovered from that reunion before we were hanging out with Argent (JR Bourne) and Melissa (Melissa Ponzio) in the train station, and they were making out, after fighting off some ghost riders.

And the emotional roller coaster continued moments later, as Stiles heard his mother's voice. The evil, ghost rider-created version of Stiles' dead mother suddenly showed up with a face that was remarkably less pretty than the last time we saw it, and she began strangling him, naturally.

With some help from Lydia's scream, Noah (Linden Ashby) was able to shoot her and save his son.
Mason (Khylin Rambo), meanwhile, made his way through the creepy train station and heard Corey's (Michael Johnston) voice making the announcements. He found his boyfriend in quite a state: hooked up to all kinds of wires and apparently being used to power the entire station. It was horrifying, and then it got horribly sad as Mason realized that while they had to unplug Corey in order to save everyone, they might not be able to save Corey.

Fortunately, once the town had been restored, they got him to the hospital, and Melissa's knowledge of those magical herbs came to the rescue.

And then all of a sudden, high school was over (after approximately 12 years) for Scott, Stiles, Lydia, and Malia (after Malia finishes summer school). Stiles is going to George Washington University in the pre-FBI program (thanks to Scott's dad). Lydia is starting MIT as a junior. Scott is going to UC Davis, and everyone is breaking up, sort of.

As Stiles bestowed his bat on Liam and gave Scott his copies of various keys he shouldn't have had, and then he and Scott drove down the road away from the high school, it kind of felt like the show was ending already. Hearing Stilinski say "there's a body in the woods" over the radio would have actually been a perfect way to say goodbye forever. Luckily, we don't have to do that.

We know there are 10 episodes left, but we're pretty sure we're not going to be able to view them through the tears that are already welling in our eyes. The big question is what the hell happens now that everyone is going on their separate ways?

Head to the comments with your thoughts!

Teen Wolf will return this summer on MTV.